Before starting a YouTube channel it is pertinent to ask yourself some relevant questions.
Also providing relevant answers to these questions allows you to be acquainted with what you will be facing as a YouTuber.
Making money online is never an easy thing, especially for newbies.
Those who have been in the game and are now benefiting from it can attest to that.
Anyone who tells you that you will start making huge money from YouTube the moment you start, my simple advice to you is that you should run away from that person.
Irrespective of the fact that yes you can make a huge amount of money from YouTube, my dear it is not easy for a newbie.
If your account is monetized then you can think of making money from the platform.
Only when that is done, making money from the platform is unrealistic.
Never be discouraged. With YouTube, you can make a whole lot more money than you can ever imagine.
What is more important is how prepared you are to make this money.
So before creating a YouTube channel there are some questions you'll need to ask yourself.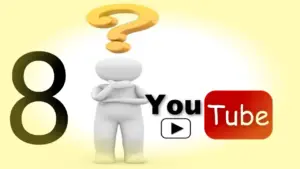 Some questions to ask before creating a YouTube channel
Q1. What niche?
You can't start a YouTube channel without wanting to know or deciding on what topic you would want to discuss always in your channel.
A niche has to do with a specific topic amid vast topics which a publisher chooses to constantly publish content.
This, therefore, means that a YouTuber must choose a particular topic he wishes to make videos about.
It is very important to decide on what you want to make videos about.
Many would advise you to choose niches you have good knowledge of.
Some will tell you to go for the topics that people want to hear.
Those topics that people would want to hear or watch have a higher tendency of making you cool earnings.
But it becomes a problem when you are not knowledgeable in such topics.
In my humble opinion, I would advise you to create channels based on topics you know very well.
If you have time to study and master other topics that people love to watch, then before creating your YouTube account take your time to learn more and be knowledgeable about such topics.
Q2. Who is your audience?
Your audience matters a whole lot. You must decide on what age group, gender and location you want to target with your video content.
This will help you narrow your content to such groups.
At all times you want to create new content you will always think about the people that will watch it.
If you plan to make huge money from your content you will have to target some European countries like the UK, Australia etc. Other countries with high economic growth like the US, Canada etc are also worth targeting.
When you constantly create content that is meant for any of these countries the possibility of making huge money is 100%.
It is also a great idea to create contents that are consumed globally.
Having said that, it is left for you to make your decision on where you want to target. Either a specific country, age, gender or possibly a general topic that accommodates all.
Q3. How often would you upload?
How often you would want to upload new content should be taken into consideration.
This is very important because a constant upload of videos helps to keep your channel active and also encourages more views and subscriptions.
It is great to upload videos at least 3 times a week, that is if you call for my opinion.
You know what's best for you. But I would advise that you constantly upload videos every week.
The time and date for each week you are to upload any video should be the same so that your intended community will know you for that and always be ready to be available by that time and day to see your new video.
Q4. What are your video uploading gears?
The equipment you will be using to shoot your videos should also be put into consideration.
If you do not have money to spend on DSLR cameras why not make use of your smartphone?
Yes of course people are cashing out big time from their YouTube channels through the videos they made with their smartphones.
So if getting a camera is a problem you can make use of your smartphone to record yourself while you make plans on how to get a good camera for your videos.
Q5. W

hat

editing software are you using?

Your editing software also plays a great role when planning to start a YouTube channel.

If you are on a smartphone you can think of apps like Capcut and Youcut.

These apps are great options as long as video editing applications for smartphones are concerned.

They are also user-friendly. Meaning that even when you are new to the world of editing you can easily find your way around the application.
Q6. Who are your mentors?
It will be wrong to start a YouTube channel without having any person in mind to learn from.
You need someone to mentor you on how you can succeed in the world of video production.
This is very important because if you don't have anyone to encourage and also direct you you will fall out due to frustration of no views and subscribers.
As SEO is required for blogs to get good free traffic from Google so also it is needed in the sharing of videos on YouTube.
You need someone to tutor you on what you must know about SEO for YouTube.
It is not necessary to find someone in your locality.
There are many online tutors that you can follow on their social media handles to get a good knowledge of what you seek.
Q7. What is your financial capacity?
You and I know that 98% of things in this world are powered by money.
No matter how easy and free it appears to be, making videos also requires finance.
If you are not acting alone you will need money to settle the people acting with you.
You will also need money to buy your smartphone, pay your video editor, buy data that will allow you to have access to publishing videos etc.
So no matter how little (that is if you have almost all that is required) you will still need money to run your channel.
Q8. What is/is your goal(s)?
Except your desire is just to upload videos for the world to see on YouTube then you shouldn't bother about goals.
But if you are mean in terms of making money from YouTube then you must have a goal.
Set out what you aim to achieve with your YouTube channel at the end of a month or year (depending on how you want it).
After setting up these goals, it is now time to work towards achieving the goal.
Summary
YouTube is a great platform which you can earn hugely from. Providing relevant answers to the questions thrown above will go a long way in helping you become a successful YouTuber.
Hope this was helpful. Feel free to leave us a comment.