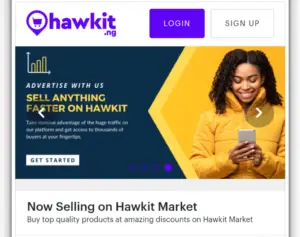 Hello there, Sir Chike is here again. Today we shall be looking at the Hawkit.ng review.
This review shall be looking at whether the platform is a genuine one or another big scam.
Disclosure: Please note that we at Sir Chike are not an affiliate of Hawkit.ng. We are providing this review based on our experience and other people's experience.
Having known our stand on this review let's get down to know more about this platform.
What is Hawkit.ng?
Hawkit is an online money-making platform domiciled in Nigeria.
It is a website that promises members the possibility of making a nice amount of money for only doing normal things they do on social media.
It is a site that pays you for liking, sharing and commenting on social media posts.
If you don't have time to read all through, you can register immediately. But I will still advise you to read to the finish.
Also, you get paid for referring people to the platform.
Sometimes we notice that lots of people do generate a huge number of views and likes on their social media posts.
RECOMMENDED: Make money from carry1st trivia app
Many do use it to win online contests where the contestant with the highest views or likes wins.
Some of those views, likes and comments are not organic. That is, they don't come from the community base of the poster.
These followers, likes, comments, etc are sometimes bought.
That is the kind of business Hawkit is into.
They sell likes, comments, views, and followers to their customers who need such services.
How do Hawkit.ng make their money?
I can't fail to mention to you in this hawkit.ng review that the platform generates its funds through four ways.
Registration of new members
Selling of VTUs
Selling of likes, comments, followers etc to those who want it.
Market place
1. Registration of new members
When you register as a new member, you will be required to pay N1000 to enable you to earn from the platform.
2. Selling VTUs
This is only available for registered members. When you register with the 1k, you can leverage the opportunity of buying a recharge card from the platform.
These recharge cards you will buy at a very low cost and resell at a normal price to your customers.
3. Selling likes, views, comments etc

Another way hawkit.ng makes its money is by selling social media likes, views, followers, subscribers and lots more.
4. Market place
Also, the platform has a section where its members have the opportunity to sell anything both digital and physical products.
The platform collects cuts from the payment you make when buying or selling the product.
Is the platform legit or a scam?
From my thorough research, the platform is far from being a scam network.
Apart from the N1000 payment to become an earning member, they still have other means to sustain their platform.
READ ALSO: How to make money online dancing
Also, to point out something clear, hawkit.ng has a 100% money-back policy.
They have promised to refund you your money if you don't make more than the amount you invested with them within 30 days.
How to register
Log in to hawkit.ng (use Saviosantos as the referral)
Click on sign up
Enter every needed information
Create an account
How to earn from the platform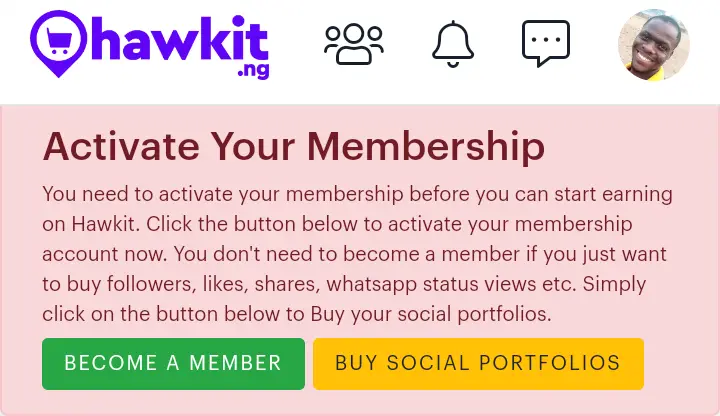 Click on become a member
Send N1000 to them using any of the available payment methods
As simple as it is. They will send you immediate feedback the moment they receive your payment.
Also, you shall be rewarded with an instant N115 after your payment is complete.
How to withdraw from hawkit.ng
To withdraw, all you need to do is to click on the "Withdraw" button and enter your bank details.
Ensure that you verify your email to activate your bank account.
Threshold for payment
In hawkit.ng there is no threshold. You can withdraw any amount that you have.
But the thing is, there is always a charge when you want to withdraw your money.
Though the charge won't be anywhere close to the amount you want to withdraw.
How do I trust hawkit.ng?
Well, as I said earlier, trusting the platform is a decision you have to make.
As for me, the platform is legit but don't take my word for it.
If the platform turns out to be a scam in the near future, I will come back to update this post.
Must I refer before I can withdraw?
Not at all. You don't need to refer any person to the platform before you can start withdrawing your money.
One thing with the platform is that you get an N500 bonus for referring any person to the platform and also, 20% of their future earnings.
Are you still in doubt? Well, at this point I would allow you to make your decision.
If you are convinced enough, join hawkit.ng now.