A Small online business is a business venture initiated with little to no capital with the interest of a future maximization.
Hi there, this is Sir Chike. As usual, we shall be looking at what you can do to be a progressive small online business owner.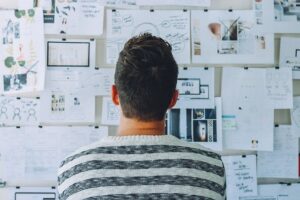 If you want to increase your chances of maximizing your small business venture you should consider reading this article.
The capitalist society has encouraged lots of competition among people and businesses. This competition has made small online businesses find it difficult to stand out.
It is pointless to spend huge resources on both human and material and at the end of the day, your business won't be known or seen anywhere.
RECOMMENDED: How to make money online dancing
Search Engine Optimization (SEO) is out there to enable small businesses like yours to be seen by the millions of human population who go online seeking what you sell.
Big companies make use of these SEO strategies to maintain their visibility in the digital world.
How are you ready to get your own small business out there? Learn to optimize your website and trust me, you won't regret it.
Before we continue, do you have a blog or website? If no, why not create an affordable one with Bluehost? Trust me you won't regret it.
Below are 10 SEO tips that would help your small business rank higher in online searches.
1. Utilize the right keywords for your small online business
A keyword has to do with words/sentences people type into search boxes to find what they are looking for.
Let's say, for example, someone wants to know the prices for sneakers for his 12 years old child.
When he heads over to Google or any other search engine, he might enter in the search box words like "sneakers prices for 12-year-old".
The words in parentheses are keywords which the searcher used in finding the answer to his query.
To further break this down, the words you entered in the search box to find this blog post is what we mean by keywords.
To enable your potential customers to find your small business you must learn to utilize the right keywords when writing about the product.
If maybe you deal in the sale of bikes, you must ensure that when you are writing a post about the bikes, you use words that would link or be synonymous with the bikes.
Those words would enable Google to understand that you are writing about your bike and when someone searches for the bike, Google will without hesitation present your product to the potential customer(s).
2. Concentrate on your unique offerings
There is a lot of competition out there and you among others are seeking ways to outrank others.
It is advised to look for words relating to your business to always push your stuff out there.
Always ensure that what you promise is what you give.
Many people have constantly made the mistake of saying something and doing a different thing.
Clickbait titles are usually problematic for all businesses.
When someone clicks on your post because of the way the title was fashioned, if he/she gets a different result contrary to what it promised, there is a 90% chance you will lose that customer.
It is always advisable to ensure that what you promise is what you are selling.
3. Run from keyword stuffing
A penalty-worthy activity on your website is keyword stuffing.
Webmasters would always advise you to write content meant for human consumption and not for search engines.
When you stuff keywords in your website, Google frowns at it and even penalizes your website in the process.
See this below example of keyword stuffing on "Bike prices"
"Get Timos Bikes for the best bike prices. The bike prices for this bike are better than other bike prices in the market"
If you noticed very well, "bike prices" appeared more than expected in just one paragraph.
Google frowns at this and will penalize your post for keyword stuffing.
It is therefore advised that you keep away from keyword stuffing.
Bear in mind that your posts will be read by humans and not search engines.
This is why it is advisable that whenever you are writing, write normally.
4. Create links to your small online business
One of the things that makes small online businesses stand out is the number of quality links pointing to them.
You can meet people who sell the same thing you sell to link to your website.
As a way of appreciation, you will also link back to them.
READ: how possible to make money on Carry1st trivia app
Quality is always better than quantity when it comes to ranking.
If you get one backlink from a website with great quality, it is far better than the thousands of sites linking back to you.
5. Encourage high-quality content
Regularly publish high-quality content and you will never regret it.
High-quality contents give room for lots of things; ranking, backlinks and lots more.
Instead of regularly publishing shady information with less value, it is advised you take your time to publish content.
Even though it is two or three times a week. What is more important is that you publish contents that are of high quality.
6. It's time to socialize your small online business
Social media platforms also help to encourage search engine optimization for businesses.
While you have a website for your enterprise, it is also advisable you create a social media presence for it.
Create accounts with social media giants like Instagram, Twitter, Facebook and others.
Sharing the link of your business to these media platforms also goes a long way in encouraging your business visibility.
7. Encourage a responsive website
Your small business must have a responsive website if you want to practice SEO.
Making your website a responsive one is one of the ways of optimization.
Imagine someone visiting your site and pulling out immediately due to the difficulty he or she encountered.
This could be the problem with using a PC view on Android. It can also be a problem with navigation.
If potential customers can't navigate through your site with ease, it can force them to leave your site and look for alternatives.
This is what you must prevent. Ensure that your website is designed in such a way that users won't resist the beauty. Also, they can easily navigate through your site.
Another thing that encourages customers to remain glued to your website is when your site is very fast.
Imagine clicking on a link in your post and it opens even before you lift your finger.
This is what people want these days. No one is ready to wait for eternity any longer for a particular post to open.
8. Measure results of your small online business
Be on the lookout to know how your site is performing. Utilize tools like Ahrefs and Semrush to know the rate at which your small online business is going.
Also, you can use the tools to know how your competitors are doing.
Knowing this would help you know how best to further work on your small online business.
9. Be patient with your growth
Nothing good comes easily. If you desire to make your small enterprise become one of the most heard great companies, you must exercise patience.
Patience and consistency give you the success that you crave.
10. Aim high
No one wants to create a small business and would want it to remain like that for eternity.
A small online business can easily become some big enterprise shortly.
This is why you are needed to put in your very best towards ensuring that you aim higher.
Don't limit your thinking too little things. Of course, you will need to start small but aim for something bigger.
Summary
Some of the above-mentioned practices are the SEO tips and advice you will need to get your small online business on the go.
Someone would always say, never forget the days of your little beginning.
A small online business can always be a great one in the nearest future. But that depends on how it is handled.
All that is needed are your ability to follow the trends and apply the right strategies.
Hope this article was helpful. Please feel free to leave us your comment in the comments section below.
Disclosure: Some links in this post are affiliate links. Sir Chike will receive a commission when you buy any product using the link(s) provided.