Mobrog survey app among many other platforms promises respondents of getting paid for taking part in surveys.
In this post, we shall be looking at whether Mobrog is a legit platform or a scam.
What is a Mobrog Survey App?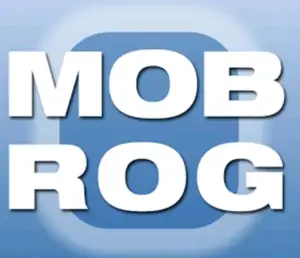 As the name suggests, Mobrog Survey App is a site that is poised at presenting surveys to its members.
Members of this site give their opinions about their feelings concerning certain products.
In the same vein, members otherwise called penalises get rewarded for participating in the online survey.
The site sends surveys in the form of emails to members. Members who qualified get rewarded after participating in the survey.
Mobrog is all about surveys and it is through this that members are rewarded.
Is Mobrog Survey App legit or a scam?
Before we continue it would be interesting to inform you that this site is a legit website.
With our experience and the experience of those who testified about the site, we concluded that Mobrog is a legit site.
So you don't have anything to worry about as long as it concerns the legitimacy of the site.
How much can one make from the survey app?
There is no specific amount to what a member can earn.
Sometimes you can make hundreds or thousands of dollars in a month from taking surveys delivered by this site but depends on some factors.
Among these factors include your country, and whether you are qualified or not.
Some surveys are around ¢0.15 while some are higher. Some surveys are slated for $1 and above.
So the country you reside in also goes a long way in determining the price of a survey.
More interestingly, you can see the amount of every survey before you can click to participate.
Mobrog Payment Threshold
One thing that differentiates the Mobrog survey app from other sites is its payment threshold.
With Mobrog you can withdraw your cash when it gets up to $5.
Some other sites would insist that you must have not less than $10 or more before you can withdraw.
The site makes its platform better and more friendly when it comes to its payment threshold.
Mobrog Payment pattern
This site pays respondents through Skrill and PayPal.
Lots of people have hailed PayPal's inclusion.
To them, this option gives members the opportunity of receiving funds through means they feel will be easier for them.
Is Mobrog Available in Nigeria?
Congratulations to those who are reading this post from Nigeria.
Mobrog is available in Nigeria and many other African countries.
It is not just in Africa, it is also available in Asia, Europe and many other countries of the world.
Check out the image below to know if your country is included among countries that can have access to the survey site.

Ways of making money from the site
You might be wondering if it is only through surveys that members can make money from Mobrog.
If this is your question then you have nothing to worry about.
Apart from taking online surveys from Mobrog, you can equally make money through the site by inviting your friends and participating in contests.
Inviting Friends – Do you want to make extra money through Mobrog? Inviting people to join the platform also allows you to make more money.
All you have to do is to copy the referral link of your account and share it with people you think will be interested.
Sharing your referral links to people who have no interest in participating in online surveys leaves you with zero add-ups and zero money added to your account.
This is why you must ensure that whoever you are sharing your link with is a person who is interested in it and ready to work.
Participating in contests – Another way you can make extra money from the website is when you join others to participate in a contest.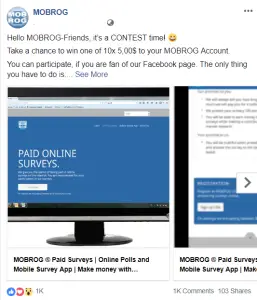 Mobrog shares to those who they feel qualify for the contest a mail. The mail will be inviting them to participate in a contest and whoever wins gets rewarded.
Things to expect from Mobrog
Irrespective of the fact that Mobrog is overhyped, they still have their shortcomings.
This is why I also need to warn you before allowing you to create an account with them.
Their surveys don't come regularly except if you are an active member of the platform.
Also, you are more considered when they think you are qualifying for almost all surveys. That is to say, Mobrog shares more and higher paying surveys to more active members and those who qualify often. Meaning that if you don't regularly participate in the survey chances you will be forgotten by Mobrog is certain.
Despite all these, you still don't have to be afraid.
Feel free to create an account with them and start earning from the site.
It will be also important to remind you that Mobrog Survey App is not a get-rich-quick site.
Irrespective of the fact that the site can't make you rich overnight, working with the site as a side hustle is worth it.
In conclusion
Taking surveys in the mobile app is super cool and something everyone 18 years and above should try doing.
You get paid for participating in surveys and sometimes when you fail to qualify for some surveys you are also rewarded for your time.
You see, it is great to work with the site.
Finally, Mobrog Survey App is a legit site where you can make a few bucks for just participating in surveys.
Hope this was helpful. Feel free to leave us your comments.