Are you still confused about whether to create an account with viraltrend or not? This review will help you to make that decision.
Before you continue reading it is important I tell you that I am not an affiliate with viraltrend.
This review on viraltrend is to enable our esteemed readers to know exactly what they want to venture into.
So every piece of information you get here about this platform is firsthand information.
What is viraltrend?
Viraltrend is a platform that registers individuals who wish to make money by sharing, liking, commenting etc on pictures and videos hosted on social media platforms.
The site promises that members can make up to N200,000 daily from the platform only by doing simple tasks.
The viraltrend platform is just like hawkit.ng. Here, they share content with their members who are responsible for carrying out the actual task.
These tasks have to do with liking, commenting etc on videos either on Facebook, Instagram, Twitter, YouTube and lots more.
My experience with the platform
After I got to know about viraltrend I decided to do deep research on it before reviewing it.
During my research (first-hand experience) I came to realise that the site has almost the same design as Nairaland.com and NNU.
Also, the site appears to be a news website where lifestyle stories and many other form of stories are shared.
Viraltrend, also, from what I got I came to realize that the platform is only available for 3 African countries e.g. Nigeria, Ghana and Kenya.
Is viraltrend legit or a scam?
This platform irrespective of the fact that it is new has received a great number of positive reviews.
Just like it is in our nature, we don't conclude until we ascertain the main result.
This in other words means that it will be unwise for us to say that viraltrend is a legit or a scam money-making website.
Though many people have testified that the site is legit while some have contradicting views about the site.
Why we are not concluding yet
The way the viraltrend website is designed is almost the same as the way nairaland.com is designed.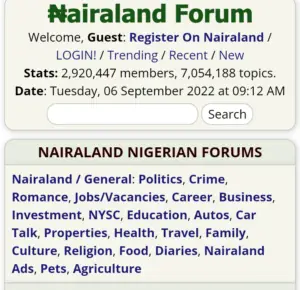 Normally, a site that intends to do what viraltrend promises wouldn't want to design its site the same way other sites are.
It is understood that nairaland.com is a microblogging website while viraltrend is a news and money-making site.
Designing the website just like nairaland is just a way of attracting traffic to the site.
The brains behind viraltrend maybe wished to make their visitors have the same experience they normally get when or after visiting nairaland.com.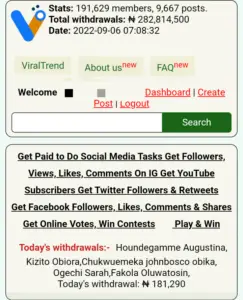 My argument here is that this site in question shouldn't be designed just in the same way nairaland.com is designed.
Some sites that started like this ended up folding the payment options and only focused on news.
This is not a bash on the site or the owners. I am only making my point.
Viraltrend Review: how to sign up
To sign up to the platform you will need to sign up through their official sign-up address which is viraltrend.org
You will need to provide all needed information like your email, name and surname, password and others.
Also, you will be required to verify your email. They will send you a verification text message through your email.
That is to say, you will need to go to your email to check the message and verify your account with them.
When that is complete you will be directed to the homepage of the site.
Here you will see your profile and also a list of news articles.
How to start earning from viraltrend
This is of course why a good population of their members created an account with them.
To do this you will need to click on the dashboard. You will be taken to a page where you will make payments.
You will need to pay N500 for Basic or N1,500 for Premium.
After you have made the payment you can now start earning from the platform by doing those things you love doing on social media platforms.
Difference between Basic and Premium packages
With the Basic package you are only qualified to earn 25% of your social media activities like; subscribing to YouTube channels, following pages on Facebook, commenting, liking etc.
While for the Premium package, you will enjoy the benefits of both the Basic package and also 40% of your referral earnings.
Is Viraltrend Global?
Unfortunately, viraltrend is not a global website.
The site was created in Nigeria and is basically for the Nigerian audience.
Though those in Kenya and Ghana can also create an account with them and start earning with them.
Summary
Many believe that viraltrend is real and many don't believe it. We on the other hand are standing on the fence as the site is very new in the system (as at the time of writing this post).
We cannot just jump to a conclusion as to whether the site is genuine or not.
With time we will bring you updates on the progress of the site.
Hope this was helpful. Please feel free to leave us a comment about what you feel about the site.