This life has got lots of goodies that many find difficult to locate. The quote by Banksy about resting and not quitting explains lots of things.
There is a huge difference between Rest and Quit.
To rest means to take a break and continue while to quit means to stop and never to attempt again.
When you are tired, rest but don't quit is a quote by Banksy which means a lot.
Take your thoughts away from the vocal meaning of the statement. Look down deep you will get to understand what Bansky is trying to say.
This quote means that in this life quitting is never an option.
Whenever you feel that things are getting tougher, take a break, restrategize and try again.
This quote is a clear explanation of when someone says "Never give up".
That is a clear explanation.
Taking a break or resting from something doesn't mean that you have given up. What it means is that you have gone to regroup and come back to fight.
Only cowards run away from challenges while those who are determined to succeed remain resolute to achieve their goals.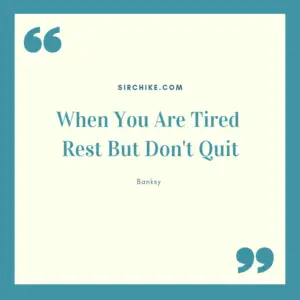 When You Are Tired Learn to rest But Don't Quit
I've known about someone who tried everything possible to win the heart of his wife.
She never liked him from the very beginning.
All attempts to make her understand what his feelings are for her were always fruitless.
Irrespective of how the young lady embarrassed him, he kept on pushing.
Finally, he won the heart of this woman and she cherishes him more than any other thing in the world.
That is perseverance in action.
This blog once suffered lots of disapproval from obtaining Adsense approval.
More than 7 times I applied for Adsense but was rejected at all intervals.
The unfortunate tale is that you will be told that your site was rejected because of a policy violation. Funny enough, Adsense does not have the spare time to inform you about what the policy you violated was.
It is left for you to make concise scrutiny of your site to know what exactly you are doing wrong.
After the 7th attempt, my site was finally approved.
I never gave up. Normally I would have quitted Adsense and looked for an alternative.
But I had an interest in the Ad network so I decided to keep on trying my luck.
Why you should never quit
Quitting is a way of saying "hey there, I don't think I can do this anymore".
If what you want to achieve will be very beneficial to you, what reason do you have to stop attempting?
Many of us have an interest in making money but when we embark on the journey, we start giving up.
If you mean that you have the desire to make money then think of perseverance.
You must persevere if you must reach or attain your heart's desires.
How to avoid quitting
Do you want to rest without quitting? It is therefore necessary that you understand everything about life principles.
Until you understand those principles you can never make it anywhere close to succeeding.
Just like in any business. All business types have a strategy for success.
If you can identify the strategy needed for your business to succeed then you are on your sure way to making waves.
You cannot be doing the same thing using the same method and expect a different result.
You cannot cook food without salt and you expect it to be tasty when you are done cooking.
If you want your food to have the taste of salt you must restrategize your cooking style.
Apply salt to your cooking and see the difference.
This is how it is in life. When you are tired, you have to rest but never quit.
Tired? Rest but don't quit (Breakdown)
Let me in final words break down the keywords in this quote by Bansky.
TIRED: "When you are TIRED" this part of the quote explains that it is normal to get fed up with the situations of life. This could be as a result of a lack of money or your business is not succeeding.
REST: At this point, when you have come to identify your problem and it seems that no solution is in sight, all you need to do is to relax. Take a break and start thinking of a different method to approach that problem. All problems have solutions. The only problem is our inability to find the solution.
DON'T QUIT: The last keyword in this Bansky's quote is "don't quit". He said, instead of quitting you better rest. Resting allows you to come up with new solutions to your problem. If you quit you have lost many trials. You don't have to quit. Rest and move back to action.
Summary
When you are tired, learn to rest but don't quit. You deserve to succeed so ensure that you rest to find a solution to your problems.