This is a review on millionformula.com a website that insists that people will make money only by doing what they love doing online.
Heads Up: Before you continue reading please bear in mind that this review is born out of our personal experience with the site. The review was not meant to bring down any digital product of any kind. Our experience with the site is what we are sharing with you our esteemed readers.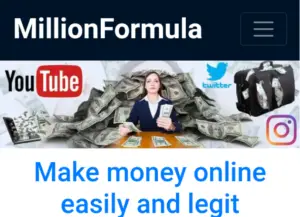 A lot of websites today are out there promising millions of dollars to the unexpecting population.
The reason many of these scam websites succeed is because of the impoverishment the world is suffering from today.
It is no longer breaking news that in all parts of the world, making money is now a very big problem.
To satisfy the thirst for wealth accumulation, we created this blog to help you to understand firsthand the kind of site you are about venturing into.
So, a friend of mine introduced millionformula.com some time ago to me but I didn't take my time to know more about it.
This is why I want to share my experience with you after I finished exploring the site.
Table of Contents
What is millionformula.com?
This is a website that promises to pay users for liking, and commenting on videos on YouTube.
Just like hawkit.ng, million formula.com stated on their about page that they pay users for doing the normal things they do on social media.
When I took my time to scroll through the site I realized that one can make money from the thing he does almost daily.
This includes liking videos on YouTube, subscribing to YouTube channels and commenting on YouTube videos.
Also, retweeting and liking tweets is not an exemption. Doing all these allows you to make some amount of money.
How millionformula works
As I pointed out, the site provides tasks for its users who carry out these tasks and get rewarded for them.
The site might share a YouTube channel with its users where they are expected to subscribe to the channel. It is expected that these users will do the needful which is to visit the YouTube channel and subscribe to it.
The next thing these users will do is to provide evidence that they have done the task.
To provide this evidence is just to take a screenshot and share it with them (millionformula.com).
When this is done they shall have their money credited to their dashboard.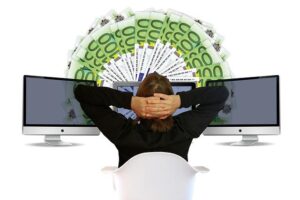 My experience with millionformula.com
After going through the promises the site made to its intended members, I decided to create an account with them at least to see for myself if what they promised was true.
In the area of payments, million formula.com said that they pay their workers through PayPal and or direct bank transfers.
Who is a worker on the platform?
A worker in million formula.com is a freelancer who does the major job for the site and gets rewarded.
Let us say, for example, you want millionformula.com to promote your channel for you for an agreed amount.
What they will do is distribute the channel to their workers.
These people (workers) will carry out the work based on your specification e.g. Subscribing to your YouTube channel or increasing YouTube video likes etc.
So, back to my experience with the site, I decided to create an account with them to know for myself if the site was real or fake.
I took the necessary steps of registration which of course was free.
During Registration
I was asked to provide my name and other important credentials about me.
It was indeed a long way to go but setting up this information was worth it.
Also, you will need to point out how you want to use the site either as a job owner (advertiser) or worker (freelancer) or both.
That is to say, you will have the opportunity to also register either as a freelancer or advertiser or both.
After this, you will be required to write about yourself in not less than 600 characters.
When do I get paid in millionformula?
Millionformula pays you right away. As soon as you earn your money and make a payout request we will process your payment right away.
You do not have to wait for the end of the week or end of month. It only takes a few minutes.
Making $100 an hour using the platform?
By choosing the right tasks to do at millionformula you can earn even more than a $100 in less than an hour.
The tasks that are most likely to earn you hundreds of dollars in less than an hour are the professional tasks like: translating, graphics designing, referrals, writing reviews, doing surveys, and similarly amateur tasks like writing comments for social media like youtube, facebook, instagram, twitter, making social media mentions and commission.
Is millionformula.com real or fake?
Just like we said earlier, we try as much as possible to make sure that we test applications first before sharing them with our esteemed readers.
While I tested the site, I was required to provide my government-issued ID.
This is one of the steps too difficult for scammers to follow but unfortunately, things are no longer the same.
Scammers can now do almost anything just to convince their prey. This is why all must be careful.
Even though I will be standing on the fence to argue whether millionformula.com is fake or real, many have spoken ill against them.
On trustpilot.com lots of reviews about them are on the negative side.
Even though I have not received any funds from them yet, I am yet to conclude that they are scammers or genuine people.
But if we go by what a good population of people are saying about them, millionformula.com is not real.
Guidance on how to evaluate the safety of a website.
Firstly, check if the website has a secure connection (https) and a valid SSL certificate. This indicates that the website encrypts data transmitted between the server and the user's browser, ensuring that personal information and financial transactions are protected.
Secondly, review the website's privacy policy and terms of service to understand how they collect, use, and protect user information. Look out for any red flags, such as selling user data to third parties or storing passwords in plain text.
Thirdly, research the website's reputation by checking online reviews and user feedback. This can help you understand the experiences of others who have used the site before and whether they encountered any safety issues.
Finally, be cautious of websites that promise unrealistic rewards or incentives for completing tasks or activities. If something seems too good to be true, it probably is, and it's best to avoid such sites altogether.
Overall, while these are just general guidelines, they can help you evaluate the safety of millionformula.com or any other website you may be considering using.
Summary
Am glad you've read up to this point. All that you have read are my pure experiences with the site.
I am sure that by now you must have made up your mind after reading this review on millionformula.com
Please note that I was not paid to write this review nor was I endorsed by the site owners.
The review you read is a complete firsthand experience I had with the site.
Thank you for coming around and I hope this was helpful. Feel free to share with us your experience.
Is there any site you want us to take a look at? Please share it with us via the comments section.