Opay is a mobile payment service provider that was launched in Nigeria in 2018.
Since then, it has become one of the most popular mobile payment services in the country, offering a range of services including mobile money transfer, bill payment, airtime recharge, and ride-hailing services.
The platform has lots of packages or goodies members enjoy and trust me, if you are a member of the Opay family you will testify to what I am saying.
In this blog post, we will take a closer look at Opay and its features and we will also know if Opay is legit or fake.
Table of Contents
Opay Features
Opay has many features specifically designed for all its members. These features are as follows
User-friendly interface
One of the standout features of Opay is its user-friendly interface.
The app is easy to navigate and understand, making it accessible to users of all ages.
It is available for download on both Android and iOS devices and can be used by anyone with a valid phone number.
To sign up for Opay, users need to provide some basic information such as their name, phone number, and email address.
Once they have completed the registration process, they can start using the app to make payments and access other services.
Opay also offers a range of services beyond just mobile payments.
It has integrated with other popular services such as ORide, OFood, and OTrike, allowing users to hail a ride, order food, or rent a bike directly from the Opay app. This makes it a one-stop shop for all your needs.
Opay Security
Security is a top priority for Opay. The app uses advanced encryption techniques to protect users' personal and financial information from unauthorized access.
Additionally, Opay has partnered with leading financial institutions in Nigeria to ensure that all transactions are safe and secure.
How to Refer Friends to Opay
Opay has a referral program that rewards you for inviting your friends to join the platform.
For every person you refer, you will receive a cash bonus. To refer your friends, follow these steps:
Open the Opay app and click on the "Refer a friend" button.
Copy your unique referral link and share it with your friends via social media, email, or SMS.
Once your friend signs up using your referral link, you will receive your cash bonus.
Benefits of the Referral Program
One of the big benefits of the Opay referral program is its ability to give you N800 when a new user registers using your unique code.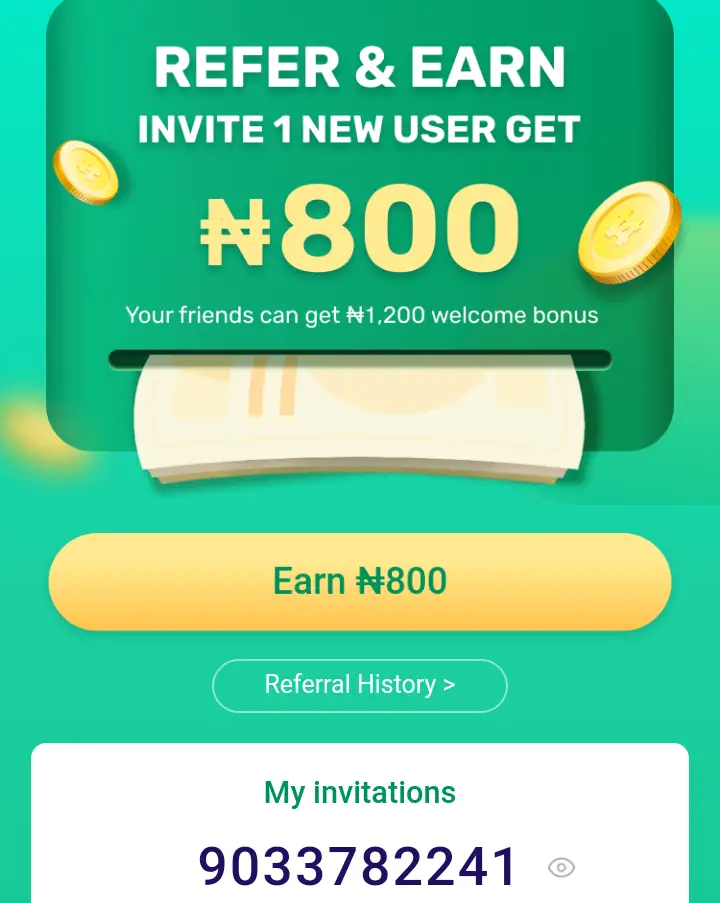 When your referral joins the platform with your code and deposits N1000 and above, you will be given N800 as a bonus.
You don't have to start wasting time. Create a free Opay account today and start enjoying transactions without hassle. Don't forget to use this code 9033782241 when filling out the referral code section.
Opay Availability
Opay is currently only available in Nigeria and a few other African countries.
However, the company has plans to expand its services to other regions in the future.
Is Opay Legit or a scam?
Opay is a real company. It is a mobile wallet and financial services platform that was founded in 2018 in Nigeria.
The company offers a range of services, including bill payments, money transfers, ride-hailing, food delivery, and more.
The platform has quickly grown to become one of the most popular mobile payment platforms in Nigeria, and has expanded its services to other African countries as well.
In addition to its mobile wallet services, Opay also offers loans and insurance products through partnerships with other financial institutions.
Wrapping Up: Opay Review – A Hassle-Free Mobile Payment Service for Nigerians
Opay is a reliable and user-friendly mobile payment service that has gained popularity among users in Nigeria.
With its range of services, advanced security features, and ease of use, it is a great option for anyone looking for a hassle-free mobile payment experience.
Plus, with the referral program, you can earn cash bonuses for inviting your friends to join the platform. So why not give Opay a try today?
If you haven't already signed up for Opay, you can use my referral link to get started: Don't also forget to use my code 9033782241 when filling the "referral code section". Happy transacting!