Welcome to our review on legitpay.com.ng. You are here because you want to know if this site is legit or a scam like many others.
Legitpay.com.ng is an earning platform that promises to pay N200 to its members who mine daily.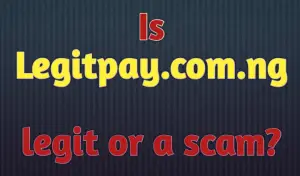 Unlike other platforms that ask you to post to your social media before you can start earning, legitpay.com.ng only requires you to invite people to the platform.
Is legitpay.com.ng legit or a scam?
Legitpay.com.ng, since its creation has received many positive and negative reviews.
At this point, one cannot ascertain if the site is a legit platform or fake.
The only best way to know is by creating an account and having firsthand experience.
Is the platform free to join?
Unfortunately, no. To become an earning member of legitpay.com.ng you will have to pay the sum of N700.
This amount covers every other expense that might likely come up on the platform.
How do you earn
Earning from the platform depends on your activities with them.
Your earning strength lies in the number of people that join the platform using your unique referral link.
You make N400 from each new member that joined the platform using your link.
Also, daily, your account will be credited with N200 as what you get from mining.
Who owns the legitpay.com.ng website?
It is super cool to know the brains behind the creation of any website you want to invest in.
This is important so that your trust towards the platform will grow stronger.
Unfortunately, the name of the creator(s) of legitpay.com.ng is/are nowhere to be found.
After a thorough check, we still could not lay our hands on the names of the creators of the platform.
Who is legitpay.com.ng meant for
Legitpay earning platform is for anybody who has an interest in making money online.
However, if you don't have an interest in regularly telling people about the site, hence, inviting them, then this site is not for you.
No way to succeed is easy. There is no way you can make millions of money from this platform (I must warn you)
So if you think you are not ready to invite people to the platform, this site is not for you.
How do you get paid in legitpay?
From our findings, we came to realise that people who successfully earned and got paid from the platform received their money through a naira wallet.
Legitpay Payment Threshold
For you to get paid in legit pay you will need to have a balance of N1,300.
That is to say, you must have at least in your dashboard the sum of N1,300 earned from your activities with them.
Also, not only that, there are some other requirements which are required of you before you can get paid.
These include reaching a certain number of referred members etc.
Advise: if you have reached the threshold needed for payments, it is advised to withdraw your money.
This will act as your capital. You can therefore invest your gain since you will no longer be scared of losing your capital to a site that might likely fail in the future.
How old is the site
From our findings, legitpay.com.ng was created on the 1st day of June 2022.
That is to say, the site is relatively new
to win trust not just from Google but also, from members of the public or its aspiring members.
Final verdict on legitpay.com.ng review
Because users' review on whether the site is real or not is 50-50, we cannot conclude at this time that the site is legit or a scam.
Also, legitpay.com.ng is relatively new on the internet (created, on 1/6/22), we cannot also conclude whether the site is legit or not.
At this point, I am sure you are convinced enough whether to create an account with the platform or to check other options.
Thanks for reading this review on Legitpay.com.ng. feel free to share the post.
Do you have any experience with the site or any other earning platform you would like to share with us? Feel free to share via the comment section.